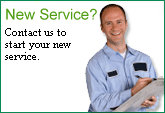 Office Hours:
Mon-Fri:
9:00am-4:00pm
Sat, Sun:
Closed
Phone:
877-LGGASCO
877-544-2726
Local:
812-537-1921
Fax:
812-537-3731
Email:
info@sycamoregas.com

Letter from the President
Dear Customers,
As a consumer, you?re always looking for ways to save money when it comes to your home and your monthly utility bills. Sycamore Gas encourages you, if possible, to use a combination of electricity and natural gas in your home to save on future bills. Each form of energy has its own unique, cost-effective advantages.
For your lights, computer, TV, dishwasher, refrigerator, and countless other appliances you use every day, there is no substitute for electricity. But for heating, cooking and drying, natural gas is your most efficient option. Why?
Natural gas appliances lower bills. Natural gas releases heat quickly and easily, while electric heating elements require a comparatively large amount of energy for a smaller amount of heat. Using natural gas for your stove, water heater, furnace, and dryer will save you money.
Natural gas appliances are more efficient. Natural gas energy is transported from the well to your home, so there is no energy lost in conversion. Electricity is generated from fuel (natural gas, coal, or nuclear). Converting these fuels into electricity and then transmitting leads to a lot of lost energy. In short, gas is a better use of natural resources.
Natural gas appliances are environmentally friendly. Natural gas is a cleaner fuel than coal and does not create toxic waste like nuclear power. Using electricity and natural gas together in your home is a smart choice for saving money and energy.
The Sycamore Gas Company is pleased to offer a rebate program to customers who elect to upgrade their older natural gas fired appliances to more efficient models or who elect to purchase natural gas fired appliances to replace existing appliances powered by other sources of energy.
The number of rebates available is limited so this offer is on a first come first served basis. You may request a rebate for appliances bought on or after January 1, 2007 provided you are able to show an invoice for the appliance and proof of payment. To obtain a Rebate Request Form explaining the details of the offer please call the office at 812-537-1921.
Sincerely,
The Sycamore Gas Company